National Sports ID recognized a major problem in youth sports and that was so many athletes "playing down" to get an unfair advantage in athletics. We decided to try to put a stop for it so we could help teach our youth that playing fair is one of the most important lessons for them to learn in sports.
So we developed our proprietary age/grade verification process and started out on our mission. We were pleasantly surprised to know that 99% of coaches and parents were in agreement with this mission and have all started to play their part in promoting fair play in youth sports by obtaining a verified sports id for their child and teams.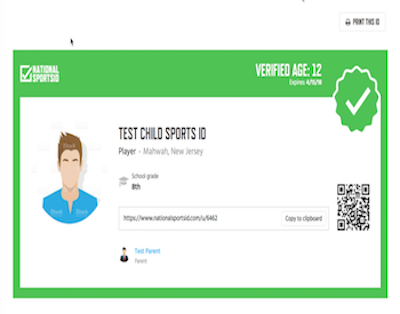 We Verify Age & Grade of Youth Athletes
We have developed a fun and easy way for parents to submit birth certificates/passports and report cards to verify the age of your child for youth sports. Our proprietary online process is safe to use, as all documents that are uploaded are erased off our servers after they are verified. Security and safety of our youth athletes is our top priority and we take every measure possible to assure that.
Once you complete the process and the review a verified sports id is issued. This can be viewed online at anytime as well as be printed out of necessary. Once you get your verified sports id it is good for 365 days and will renew with no more documents to ever be uploaded. Our sports id is being accepted my more and more sports organizations everyday so don't wait to get one.
We Verify Age & Grade of Teams
How many times have you been to a tournament and played against what you thought was a team with older kids? Well chances are you were right because programs "playing kids down" for an unfair advantage is rampant and we are here to put a stop to it. We also verify the age and grade of teams to make sure they are playing in the proper divisions of tournaments and leagues.
More and more tournaments and leagues are not paying attention to this problem and also want to put a stop to it. They are now using NSID to not only verify their participants but also to organize the process coaches, players and parents have to go through to enter their events.