Promoting Fair Play: National Sports ID's Innovative Approach to Youth Sports Age and Grade Verification for Tournaments and Leagues
National Sports ID tackled the prevalent issue of youth sports age verification because underage athletes were being allowed to compete in lower age groups, thus gaining an undue advantage. Our aim was to stop the cheating and advocate for fair play, an essential life lesson we believe all young athletes should learn from their involvement in sports. We immediately and are still the leader in youth sports verification.
To address this, we established a unique age and grade verification process. We embarked on a mission to encourage fairness in youth sports competitions and were delighted to find that the overwhelming majority of coaches and parents shared our vision. To promote fair competition, they've embraced the use of our verified sports ID for their respective teams and children, ensuring players participate in the appropriate age groups.
We Verify Age & Grade of Youth Athletes
At National Sports ID, we've designed an innovative, secure, and easy-to-use online solution to verify your child's age for youth sports participation. Through our platform, parents can conveniently submit proof of age documents such as birth certificates, passports, and report cards.
Our proprietary process places paramount importance on safety and security. Rest assured, all documents uploaded are permanently deleted from our servers post-verification, aligning with our commitment to protecting the privacy of our young athletes.
Upon successful completion of the verification process, a verified sports ID is issued. This ID can be accessed online at your convenience, and printed if needed. This sports ID, valid for a year, renews seamlessly with no further document submission required.
Our verified sports ID is increasingly gaining acceptance across various sports organizations. Don't delay – secure your child's verified sports ID today for an unhindered sporting experience.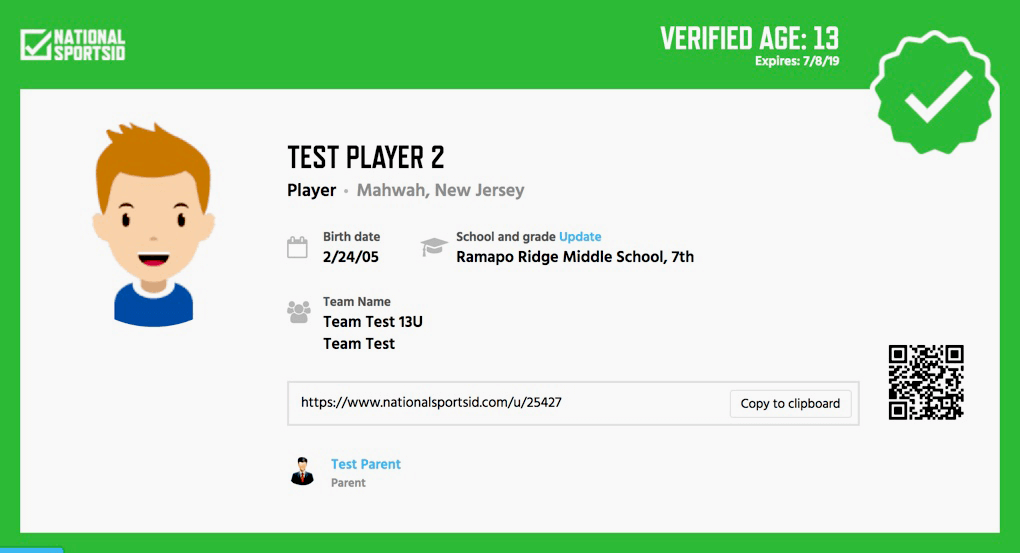 We Verify Age & Grade of Teams
Have you ever participated in a tournament where you suspected the opposing team had older players? The issue of youth sports teams "playing kids down" for an undue advantage is widespread, but we are dedicated to eliminating it. We meticulously verify the age and grade of athletes to ensure teams are competing in their rightful divisions in leagues and tournaments. Our unique offering? We provide the only verified team roster with photographs, a feature unmatched by any other youth sports registration platform.
Increasingly, tournament and league organizers are recognizing this issue and are committed to rectifying it. They are partnering with National Sports ID to authenticate participants, streamline the registration process, and alleviate the burdens that coaches, players, and parents face when registering for events.